Meet my newest creation! Isn't she an adorable summer purse?
And can you believe I made her out of this tube top?
I was going to post a tutorial for how to make your own. But how many of you are really gonna have this type of tube top and not want to wear it? I just can't wear mine because I've had two babies and gained 30 pounds since I wore this little number :( I love it so much that I wanted to make it into something useful and pretty.
So here is the process I went through to make the purse, without too much instruction. But you get the idea.
Lining with interfacing. Lots of interfacing to make the purse stiff.
Sew in lining along the top.
Insert reclaimed zipper from some old pajamas of Lane's.
Handles!
Hand sew bottom vinyl on with a blanket stitch.
Close up of bottom.
Ta Da!
Logan and I are busy painting up a pretty bird house and planter for our old bench which we are then going to turn into a pretty corner garden in our yard. Stay tuned for our progress!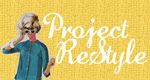 ______
Sharing this refashion with:
Too Cute Tuesday
- Funky Polkadot Giraffe
Link Party #54
- Tea Rose Home
Sugar and Spice
- Seven Thirty Three
Lil'Luna Link Partay
- Lil' Luna
Hoo's Got Talent?
- Night Owl Crafting
Link Up Lounge
- Deals and Dishes
Show Off Your Stuff
- Fireflies and Jellybeans
Making It With Allie
- What Allie's Making Now
Tickled Pink
- 504 Main
Fantabulous Friday
- Momma's Kinda Crafty
Feature Yourself Friday
- Fingerprints on the Fridge
Friday Favs
- Naptime Crafters