I am unnaturally attached to my hair.


The stuff on top of my head, not the other stuff which can take a flying leap if you know what I mean. ;)
And I'm afraid for the future of my long locks. :(
This long wavy awesomeness might have its days numbered.
My surgery on Wednesday involves me getting my chest cracked open. Bleh. But I'm not concerned about the scar it will leave (actually the scar will probably be much improved from the one that is already there from the first time I had open heart surgery). I'm not even really concerned with the pain or the recovery. I'll figure it out and take lots of drugs.
But I am concerned about my precious hair! Ack! Being in the hospital for a week without proper hair care is going to make it very angry. And the idea of washing and brushing it with a cracked sternum sounds brutal.
What if I have to cut it? I haven't had short hair since high school. I have a seriously round face which means it's going to have to be really short or long. No in between - unless I like the chubby-cheeked chipmunk look... and I so don't.
The rational part in me says that it will grow back really fast.
I cut it down to this length once. Not too bad. It grew back to my long wavy locks in about 3 months. But to cut it so short that I wouldn't have to deal with it while healing? That will take at least a year (with the dreaded chipmunk look in between) to grow out. Waaaaaahhhhhh!
The irrational part of my brain says, how will my kids recognize me without my long hair? Totally ridiculous - I know. But still... I identify myself with some of these outer features.
Boourns.
So there you have it folks. A trip into my secret inner fears. I can handle surgery... but the chopping off of my hair might just break my heart.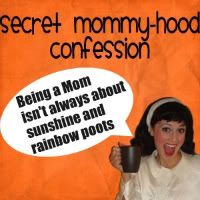 Go on over to "
All Work and No Play Makes Mommy Go Something Something
" to read more confessions and link up your own... if you dare!