Welcome to my first Mommy-hood Confession Saturday. I'm a little bit nervous since divulging secrets would make anyone nervous. But I so enjoy reading
Kim's confessions every Saturday
, that I thought I'd better participate lest she think that I'm just enjoying her secrets too much and won't pony up with a few of my own. :)
So here goes....
I'm Lactose Intolerant
.
Yup, I just won't tolerate that ungrateful mineral? chemical?
And this from a girl who's maternal grandfather was a milkman and who's husband can drink four 4L jugs of milk a week!
Take today for instance. My little man went to the Hair Do Zoo to get his haircut. This is a big step for him. So we decided to reward him for his bravery by going to the Marble Slab Creamery (which just so happened to be in the same parking lot).
I ordered a vanilla brownie sundae. Yum Yum! I love ice cream!
My body, however, does not.
I even thought ahead and took my Lactaid pills.
Yeah... they do jack squat.
Immediately after tasting my first bite a cold, delicious ice cream, I started to feel the bubbles. The fizz bubbled and bubbled until I was just about doubled over. And yet I still felt the need to keep eating this delicious, yet noxious treat.
And I've been paying for it with burps all afternoon. Bleh.
I'm about ready to jump on the "no dairy" bandwagon, but then my pizza would be so boring. And what about poutine? Can't give that up no matter how much my tummy protests.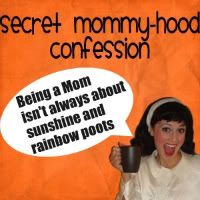 (Go on over to
All Work and No Play Makes Mommy Go Something Something
to join in the fun or read Kim's funny, silly and sometimes so sad it makes you bawl secret confessions.)