Today has been a test of our strength as parents.
First, we cut out a bottle in the middle of the day for Lane. Ouch! She's now down to two. One in the morning and one in the evening. Pretty soon, we'll be cutting out the bottle entirely. This was an easy transition for Logan who really enjoyed his sippy cups, but Lane is more attached to her bottle. It went well today, so maybe we have a chance.
Not only did we do that, but we presented a strong parental front to Logan this morning by making him wear his pull-ups all day. I have to admit, his lack of serious potty training is completely our fault. We're lazy and full of excuses. He was showing signs of being ready almost 2 years ago, but we're only getting around to finishing the work now.
First there was a tough pregnancy, then we bought a house and moved, then Lane was born and then the wedding took our attention. But no more excuses! It's time to get this potty training thing done.
We had planned to do this today so I worked on doing lots of laundry to have lots of accident shorts ready just in case. And of course, this is the week when Logan's diapers didn't fit quite right and leaked, or he got messed up playing with paint or sand. So I had no shorts ready. What does a crafty mother do in this situation?
Make some more!
I have decided to participate in
The Train To Crazy
's Great Destash Challenge. This was the first project. I made these shorts out of the leftover knit I had from making Logan some t-shirts.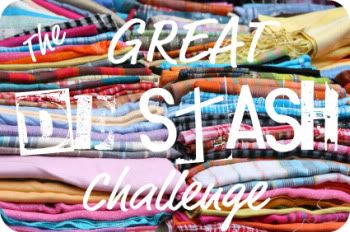 Next up, while I was on the subject of bottoms, I realized that my own collection of underwear was becoming worn out. Let me tell you, it's a great day when you get to make yourself some pretty new panties!
Once again, I used only fabric and notions from my stash. Woo! I love them all. Which ones should I wear first?
I used up the ends of three spools of thread today and realized that I don't have as much fabric as I had thought in my stash. So a trip to the fabric store is in store for tomorrow - but only to buy thread, terry cloth (I have none for a new baby present I'm planning) and green felt (for an interesting and creative project that my sister has commissioned from me).
Wish us luck with the continuation of our guerrilla parenting!
-----
Linking up with: