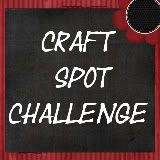 I'm editing this post on May 14th, 2011 in order to enter it into Crystal's Craft Spot Challenge. The theme is wood, and I think bamboo skewers count as wood? Anyway, I think this craft is pretty awesome and cheap and she says we can enter oldies but goodies, so there ya go!
I've been browsing some of the kitchen stuff at the Home Expressions Show and also online for the past couple of weeks. There are tons of ideas for our house. We haven't gotten around to decorating fully (who ever says they are done decorating anyway?) One thing I noticed were these trendy knife holders for the kitchen.
A painted box with bamboo inside to hold the knives. And these things sell for $50.00 (small) and $89.00 (large)!! Ouch! I'm going to show you how to make a similar product that will cost you under $10.
You'll want to head to your local Dollar Store for all the supplies.
Supplies needed:
- bamboo skewers (I needed 5 packages of 100 to fill my vase) = $5.00
- A jar of coloured sand = $1.50 (you can also use rice or sugar if you want to save even more money)
- A vase. Make sure it's not curved - it should be straight up and down = $2.00 (you can also use a 2 litre plastic bottle with the top cut off or a tall decorative tin or juice container)
- A scrap of fabric
- anything you want to decorate the vase with (ribbon, button, beads, etc.)
- Hot glue and a glue gun
1) Measure around your container. Cut a rectangle of fabric that is the measurement plus one inch and however much of height you want on the decorative band plus one inch.
*** Yes, I'm using the Man Fabric again. I didn't ask Terry which fabric he wanted for this particular project, but I knew he would say the Man Fabric. I wasn't going to use this fabric, but when I took a look at our kitchen I realized it was the only fabric that matched. We have brown countertops and forest green painted cupboards and blinds. Not my favourite choice of colour scheme, but it'll do until we get enough money to redo the kitchen the way we like. ***
2) Use hot glue to make a "hem" on the bottom and one side of the band.
3) Glue the rectangle band of fabric to the container top. Make sure the "hemmed" side of the band goes over top of the unfinished side. And have a little bit of the band hanging over the top.
4) Fold the leftover fabric from the top over into the container and glue it down. It doesn't have to be pretty on the inside, so use as much glue as you need, no one will see it anyway.
5) Decorate your container however you like. I added a band of wide ribbon into mine.
6) Pour some sand, sugar, rice of beans into the bottom of the container. At least a cup of material should be enough.
7) Fill the container with as many bamboo skewers as you can possibly fit inside it. This container took 500!
And voila! For a grand total of $8.50, I've got my own personalized, matching, "designer" bamboo knife holder.
Doesn't it look great in my kitchen?
:)